We Make Way to Success Freelancer Web Designer and Developer From Lucknow
I'm basically from Nawada, Bihar but live in the Lucknow capital of Uttar Pradesh, India. I have been designing and developing websites Since 1996, and I love what I do. I'm professional Freelance Web Designers & Developers from India, digital office located in the heart of Lucknow City of Nawabs, in Uttar Pradesh, India. Our clients immediately become a part of our eccentric and Affordable Web family. From our strategists to our Designers & Developers Group, I dedicate our talents and time to building user-centric & social engaging Digital Solutions that will help our clients expand their span Web Presence & Business Online. Website solutions at Affordable Low Price, Website Promotion and Consultants, Outsource web Development in India, High quality web design with e-commerce using PHP & MySQL, Search Engine Optimizations, Domain Registration, Hosting, Cloud Server, Website Designing, Web Development, Graphic Designing, Graphic Designing, Social Media Marketing, Digital Marketing, Mobile Apps, CMS, eCommerce, Website Planning, SEO, Wordpress Customization, Opencart Customization, and Information Architecture.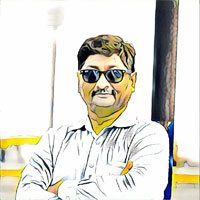 Amartya Sinha
Join Our Team!
---
Freelance Web Designers Group
We are specialize in standards-based XHTML, CSS, JavaScript, PHP and MySQL web Design & development. Each site We develop is built using the Latest Development Principles and Techniques. Effective Web Design is a careful blending of artistry, usability, and functionality. Each of these ingredients play a key role in Creating Web Designs which achieve client goals. I have worked with clients for over 20 years of industry experience.
Contact Us to get serious about your Business Web Presence. When we design a website, we are constantly considering how the site will be built and how it will function. This way, you can be sure that both design and usability will be considered along every step of the way. We advise clients on Web strategy, implementation and best practices. I believe that great design is in the details. We also believe that design must support functionality, and vice versa. One can't, and shouldn't, be used to overcome the weaknesses of the other. Design is more than just choosing colors, typefaces, shapes, and images. Good design works to present information in such a way as to support the information it presents.
---
01

Website Design & Redesigning Website
The Affordable Web Group is a full-service website designer Group. Our designers group are well versed in the tangibles and intangibles of a effective website design, as I work in HTML, XTML, PHP, OpenSource, & other scalable technologies. Our accountability and attention to detail is paramount for clients, and I pride ourselves in building long-term relationships with them. I have an extensive network of freelancers I work with, and I can assemble just the right team for your project.

02

Dynamic Responsive Website Design Development
Dynamic Websites as they are popularly called are CMS or 'Content Management System' websites that allow you to control and manage the content within your web site - without the need for technical training, via the Browser based Administrator Panel that will be provided to you. You will be able to Add / Edit / Delete content of text and pictures at appropriate places within each page. You will also be be able to create new pages/sub-pages with text and pictures as content. The design elements use a Database method of recalling the content, hence the website is developed using PHP and MySQl as the design software. Websites made in CMS method need to be patched for security updates regularly.

03

E-Commerce Websites
With great expertise in ecommerce development and has a team dedicated to it. With increase in internet users and innovating technologies, ecommerce has become a lucrative option for business owners. It has changed the way trade and commerce is conducted today. It allows easily marketing and selling products to the global market. Retailers are coming online and are looking for secure and flexible way of selling their products. Ecommerce has allowed users to shop online easily and with more security.

04

Digital MarketingSocial Media Marketing is a big component of any recent Search Engine Marketing project. I can help manage your Social Media presence via daily, weekly or monthly updates, and include our proprietary tracking systems to help gauge each one's success! Site marketing and search engine optimization (SEO) are geared towards achieving a high ranking in the major search engines. Site marketing and SEO, however, are not enough. While natural search engine traffic is key to a site's success, making sure that traffic converts should be your primary goal. My goal is to get you focused traffic, while continually refining your site to increase conversion rates. My site marketing process encompasses three major stages- search engine optimization, user tracking and conversion improvement, and internet marketing through email campaign and pay-per-click advertising.